All our professionals at Dresser Family Dentistry maintain the highest levels of accreditation and pursue ongoing education to stay abreast of the latest trends in dentistry.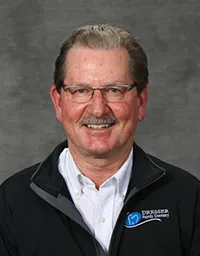 Dr. Dresser, DDS
Dr. Richard Dresser was born and raised in Edina, MN. His interest in dentistry began early on, having a father who was an oral and maxillofacial surgeon. After three years of studies at St. Olaf College in Northfield, Dr. Dresser was granted early acceptance into the University Of Minnesota School Of Dentistry. Upon graduation in 1984, he became an associate dentist in a general dental practice in St. Paul, MN. In 1988, Dr. Dresser purchased an existing dental practice in Owatonna, moving it to our current facility in 2007.
Enjoying the wide variety of patients and procedures that he is involved with in the general practice of dentistry, Dr. Dresser's practice philosophy is simple-treat our patients as we would want to be treated. This includes offering ideal treatment plans, as well as alternatives.
Dr. Dresser's professional affiliations include memberships in the American Dental Association, the Minnesota Dental Association and the Southeastern Minnesota Dental Society, as well as participation in the Give Kids a Smile, Donated Dental Services programs and volunteers his time at the Steele County Free Clinic.
Away from the office, Dr. Dresser enjoys bicycling, cooking (especially barbeque), skiing and the Minnesota Vikings. He also enjoys spending time with his daughter Alison, son-in-law Trevor, granddaughter Myra and grandson Niko.
---
Tianna
Licensed Dental Assistant
Tianna attended South Central Technical College in Mankato and received her degree in dental assisting in 2002.
Tianna joined our team in the summer of 2007. She works as Dr. Dresser's chairside assistant. In addition to that she also does the supply ordering and coordinates the OSHA and infection control protocols for the office.Tianna grew up in Morristown, Minnesota, and has been living in Owatonna since 2005. She and her husband have three daughters. In her spare time she enjoys scrapbooking, card making, fishing and four wheeling.
---
Rhonda
Registered Dental Hygienist
Rhonda graduated from Rochester Community College in 1999 with an Associate Degree in Dental Hygiene. She joined Dr. Dresser's team in August 2012 as our hygienist, helping to maintain the dental health of our patients.
Rhonda grew up in rural Kasson, MN. She now lives in Dodge Center. In her spare time Rhonda likes to cook, read, embroider, and do other crafty things. She also enjoys being outside gardening, spending much of her time with her miniature schnauzer, Ollie and taking time to spend with her friends and family.
---
JoEl
Licensed Dental Assistant, Business Assistant
JoEl graduated from John A Logan College, Carterville Illinois, with a Certificate in Dental Assisting in 1992; she also graduated from Lakeland Medical and Dental Academy in 1996 to become a Licensed Dental Assistant. JoEl joined our team in 1997 as a chairside assistant; in 2001 she became our business assistant. She handles scheduling patients, answers phones, handles all the insurance from submitting claims to maximizing yearly benefits, she is also in charge of accounts and is our financial coordinator. In addition, when needed she helps as a chairside assistant.
JoEl was born and raised in southern Indiana; she has lived in Owatonna since 1995. She has 3 adult children and seven grandchildren. She and her husband enjoy camping, singing Karaoke, entertaining and spending as much time as possible with family and friends.
---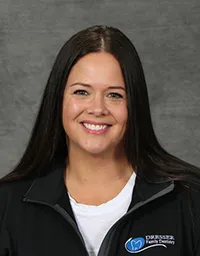 Josi
Registered Dental Hygienist
Josi graduated from Rochester Community & Technical College in 2005 with her degree in applied science in Dental Hygiene. She began working with Dr. Dresser in 2013 and enjoys providing gentle, quality care to our patients.
Josi was born and raised in Blooming Prairie, MN and still lives there today. She has one son and three daughters. Josi enjoys spending time with her family, singing, digging in the dirt (gardening) and fishing.
---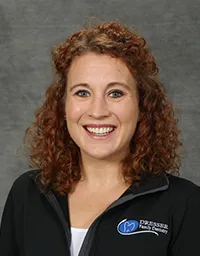 Blaire
Blaire attended Rochester Community College in Rochester and received her degree in dental assisting in 2015. She joined our team in 2020.
Blaire lives in Blooming Prairie with her family. She enjoys camping, spending time with her family, playing with her dog Lucie and baking.
---